Finally, spring is here! This season is probably the best one to enjoy Paris at its fullest! Being real Parisian chicks with a soft spot for spring, we decided to share with you our 4 favourite things to do in "la ville lumière" this spring:
A romantic picnic by the river Seine
What could be more romantic than a picnic by the river Seine, at golden hour…? Put on your shoes, pack your basket, head to one of Paris many grocery stores (we have a soft spot for the beautiful "La grande épicerie) to buy your favourites nibbles and drinks (what about that bottle of pink champagne that is eying you up…), make your way to one of the many spots on the river banks, sit down and…chill!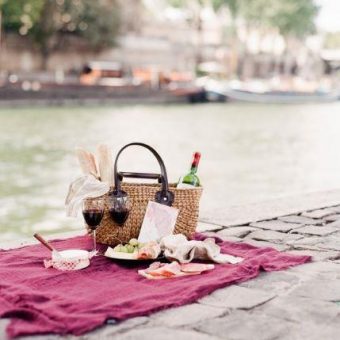 Chilling on the terrace of a "café "
With the sun flooding the streets of Paris, put your sunnies on, pick any terrace to sit down, order a glass of rosé (we're in France so after all) for a bit of people watching and sun soaking. You've plenty of café styles and locations to choose from! One of our favourite district is the "quartier Montorgueil and the café "Le Compas". If you are looking for less traditional and more sophisticated why not try the terrace of "Monsieur bleu" with its stunning view overlooking the Eiffel Tower…
Uncover secret spots
Paris is full of little secret spots. Musing around town, exploring the back streets you might come across genuine surprises and (re)discover Paris. We love the "Musée de la vie romantique" and it's very countryside-ish park. Walking is the best way to explore the French city-capital and get a genuine feeling of it…
Attend one of the season's first music festival
Last but not least another great thing to do in Paris when spring comes is attending one of the first music festivals of the season. Weather permitting you can finally spend one of those nice "outdoor" evenings, so why not spend it listening to some music?! And this could be yet another opportunity to wear your favourite pair of heels (Varadi of course 😉 ) to be the belle of the ball…!
Feeling inspired? Get ready, step out on the streets of Paris and explore!
Varadi, xox